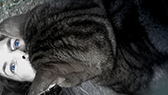 DEAD GIRL VAMPIRE CATS
2018, 14 MINS
What happens when the fragile barriers we construct to make ourselves feel safe disintegrate?
Dead Girl Vampire Cats is a somnambulic landscape of a woman trapped in her home with her cats during a blizzard. As the storm rages, hungry pets reclaim their wildness and invoke a new natural order.
The project is both a film, and an immersive audio and visual installation, made by:
Cindy Kleine: Director/Producer/Cinematographer
Bruce Odland: Composer/Sound Designer / bruceodland.com / The New Yorker
Max Bernstein: Installation Designer and Projection Mapper / Squeaky Wheel Media Art Center
Eugene Lee: Set Designer / New York Times
Siobhan Dunne: Editor/Story / siobhandunne.com
The installation, Dead Girl Vampire Cats, can be experienced in "immersive labs" in selected venues, each with limited entry. The next "lab" will take place in Brooklyn, New York, January 21 through January 31, 2018.
Film Screenings/Winter 2018:
MagikalCharm Film Festival / Tuesday February 20 / 7:00pm / Anthology Film Archives
NewFilmmakers / Wednesday March 14 / 8:30pm / Anthology Film Archives