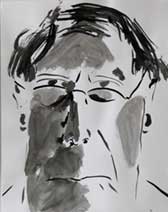 BEFORE AND AFTER DINNER
2012, 108 MINS
André Gregory: Before And After Dinner is an exploration of the life and work of groundbreaking director, actor and artist André Gregory. A witty and often hilariously funny raconteur, Gregory looks back on a career that spanned decades, shattered boundaries and established him as a cultural icon. He recalls the making of My Dinner With André, the Louis Malle-directed classic in which he starred and co-wrote, reflects on his pivotal role in American theatre, dishes on his brief sojourn in Hollywood, and talks about the discovery that led him to question his own identity and life's work. Bringing us back and forth in time, Gregory looks not only at his life, but at the nature of art, love and the creative process. Directed by award-winning filmmaker Cindy Kleine (who is also his wife), André Gregory: Before and After Dinner is a brilliant portrait of a modern renaissance man.
Before And After Dinner opened at Film Forum in New York and The Music Hall in Los Angeles, followed by runs in Chicago, Portland, Boston, Santa Fe, San Francisco, Cleveland, Seattle, Detroit and Toronto. Other screenings include Lincoln Center for the Performing Arts, International Festival of Films on Art, Montreal, It's All True, Sao Paulo and Rio, and the Provincetown Film Festival.
Press and interviews include The New York Times, Variety, The New Republic, All Movie Guide, The San Francisco Chronicle, The Seattle Times, Newcity Film, The Awl, and Gwarlingo.
Available at:
Netflix (DVD rental)
Amazon.com (DVD purchase)
Cinema Guild (DVD purchase)
iTunes (Buy)
Google Play (Rent or buy)
Fandor
"It's really wonderful work. Enlightening, moving, and very much a love story." — Martin Scorsese
"An indelible, gripping documentary. Gregory is a spellbinding raconteur." — Stephen Holden, The New York Times
"Thoroughly delightful. Gregory's tale-spinning fluency dazzles just as much as it did in Louis Malle's My Dinner With André." — Ronnie Scheib, Variety